Partnership Leverages Smiths Detection's Global Security Expertise and 20/20 BioResponse's BioCheck® Technology to Enhance.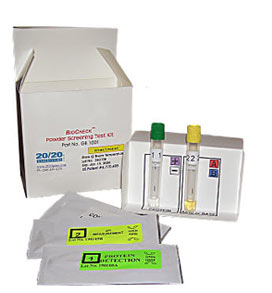 Edgewood, MD, February 17. 2010 – Smiths Detection today announces a world-wide distribution agreement with 20/20 BioResponse for its BioCheck powder screening test kits. The partnership adds a low-cost, highly-effective biological threat assessment tool to strengthen Smiths Detection's portfolio of proven emergency and first response solutions.
Mal Maginnis, President, Global Military and Emergency Responders for Smiths Detection, said: "This partnership reinforces our goal of becoming a total solutions provider for biological threat assessment. BioCheck complements our line of suspicious powders assessment technologies giving emergency responders a comprehensive suite to choose from for quick, efficient and accurate detection in suspicious powder incidents."
BioCheck is a patented and easy-to-use screening kit that combines a 'best in class' protein assay with a pH test to rapidly assess suspicious powders representing potential biological threats. Emergency responder teams and government agencies worldwide have used the sensitive kits for more than seven years.
Jonathan Cohen, President & CEO of 20/20 BioResponse, a division of 20/20 GeneSystems Inc., said: "Smiths Detection is an ideal partner with a well-established global customer base that will greatly benefit from the capabilities that BioCheck offers. Their full breadth of complementary technologies provides a comprehensive solution, and we look forward to a meaningful and long-term relationship with them."
Link to original article